2019 Ashes Tour
Tests 4 & 5 Tour - Old Trafford & The Oval With Barcelona still available

RUSSIAN TOURIST VISA

All passengers booked on AST's Ashes tours that include travel to Russia need to prepare and submit their own application for a Russian Tourist Visa in order to be able to enter the Russian Federation.

It's very important to note that your Australian passport must be valid for at least six months after the date you leave Russia. Our Ashes trip to Russia concludes on 13th August 2019, so your passport expiry date must be after 14th February 2020. If your passport is set to expire before 14th Feb 2020, you will need to get a new Australian passport before you can apply for your Russian tourist visa.

There are generally two ways you can apply. Either do it yourself directly through the Russian Embassy in Australia (Sydney or Canberra), or through a privately operated tourist visa service. See options below:

DO IT YOURSELF:

If you intend to apply for your visa directly, a new service named the Russian Visa Center (Sydney) commences in April 2019 to simplify the do-it-yourself application process. For details visit:

https://sydney.mid.ru/en_GB/web/sydney-en/home/-/asset_publisher/hSMYdZqYrk7d/content/russian-visa-center-sydney

To apply for your Russian tourist visa directly through the Embassy of the Russian Federation in Australia (located in Canberra ACT) visit their website at:

https://australia.mid.ru/web/en/tourist-visa

APPLY THROUGH A PRIVATELY OPERATED AGENCY:

AST customers have previously successfully used the following agency located in Bondi Junction, Sydney for a Russian tourist visa:

56th Parallel - Russia Travel Specialists
Website: https://www.56thparallel.com/
Tel: 02 9388 9816
Address: Level 1, 55 Grafton St, Bondi Junction, NSW, 2022

Their service costs around $450 (plus any postage fees) and takes a great deal of the stress & hassle out of applying for the visa. The cost is not a huge sum more than doing it yourself and it's therefore a very popular way to do it.

There are also several privately operated tourist visa agencies throughout Australia. You will note the above Embassy website has three private visa agencies listed through which you can seek info and apply for your Russian tourist visa:

1. Reho Travel (Melbourne)
Web-site: www.reho.com
Tel: 03 9823 5222
E-mail: mail@reho.com
Address: 484 St Kilda Road, Melbourne, VIC 3004

2. Reho Travel (Sydney)
Web-site: www.reho.com
Tel: 02 9900 6969
Address: Lvl 2, 29 Kiora Rd, Miranda, NSW 2228
E-mail: sydney@reho.com

3. SafeWay Travel
Tel: 03 9534 4866
E-mail: safewaytravel@optusnet.com.au
Address: 288 Carlisle St., Balaclava, VIC, 3183

2019 Ashes Series

In what shapes as an unpredictable match up between two old foes, we look forward to taking Aussie supporters to the UK to support our team in their quest to win an Ashes series on English soil for the first time since 2001.

We have created a fantastic range of escorted tours that not only include guaranteed tickets to all Test Matches, but also travel to some of Europe's best touring destinations; Northern Ireland & Scotland, Munich to Prague via Salzburg & Vienna, Helsinki with St Petersburg & Moscow, along with Barcelona, Amsterdam and Berlin, are just some of the iconic cities we will visit.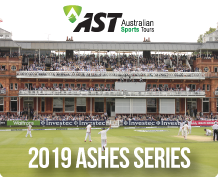 As the most experienced cricket tour operator in our field, our tours feature everything you would expect from a first class touring experience. We have your tickets, accommodation, sightseeing and transport covered for the upcoming Ashes series in England. But for us, it's about giving you the best cricket and touring holiday experience you could imagine – the added extras that set us apart from the rest

As well as having experienced tour reps leading the tours, we are thrilled that cricketing legend Merv Hughes will this year be joined by his old team mates and fellow legends Geoff Marsh and Terry Alderman as tour hosts. All three hosts played in winning Ashes Series in the UK, so they know what it takes to win the Urn and will provide expert insights into the action on the field.

An Ashes Series is the biggest and best cricket tour on our calendar and we look forward to you joining us on this unforgettable touring experience.

Australian Sports tours is an independent contractor to, and is not an agent or associate of, Cricket Australia or Cricket Australia Travel Office